About Diamond Phoenix
The Diamond Phoenix dragon boat club (ABN 94293484340) is a Canberra squad consisting of women of all ages and fitness levels. The focus of the team is empowerment and friendship, while continually striving for improvement. Our club caters for social and competitive paddlers.
We compete at local Canberra dragon boat regattas, as well as interstate and overseas. Members also enjoy social events and other fitness activities together. Our philosophy is: Encouraging women in sport: happier, healthier, fitter!
Goals
To give women the opportunity to experience dragon boating.
To enable members to develop their best paddling technique.
To assist members to increase their fitness and endurance.
To improve individually and as a team, and celebrate our achievements.
To create a culture where women feel comfortable to achieve their best.
To encourage and promote women in sport.
About Dragon Boat Racing
Dragon boat racing originated in China over 2500 years ago. While competition has taken place annually for more than 20 centuries as part of folk ritual, it emerged in modern times as an international sport in Hong Kong in 1976.
Dragon boats are 12m long canoe-like boats with twenty people two abreast, along with a sweep to steer the boat and a drummer. For competition events, dragon boats are generally rigged with decorative Chinese dragon heads and tails. Competitions are divided into separate categories depending on the mix of gender and age of the paddlers over a course of 200m, 500m, 1000m or 2000m. Some competitions also have categories for 10 paddlers.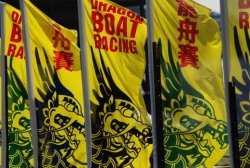 Dragon boat racing is among the fastest growing of team water sports, with thousands of participants in over 60 countries. The sport is recognised for the camaraderie, strength and endurance of participants. It's a great way to build up fitness and make new friends, even if you've never done a team sport or water sport before.
Further information about dragon boating can be found at:
Dragon Boat Racing in Canberra
Dragon boating was introduced to Canberra in 1990 and the governing body Canberra Dragon Boats Association Inc. (now known as Dragon Boat ACT) was established in 1995. Diamond Phoenix was founded in 2006 as Canberra's only general all-women's club. Canberra is home to over ten teams and approximately 900 paddlers.
Dragon Boat ACT is a member of the Australian Dragon Boat Federation (AusDBF), which in turn is a member of the International Dragon Boat Federation (IDBF).
Photo Gallery
The most recent photos can be found on our Facebook page (available to everyone): www.facebook.com/dragonboatclub

2012-2013 season and 2013 Australian Championships
Useful Links
Australian Dragon Boat Federation
Chief Minister's Media Release about Diamond Phoenix
Dragon Boat NSW Racing Calendar
International Dragon Boat Federation
Paddles: